documentary / 8min / digibeta / 2008
Yuri was a dancer with the famous Russian Bolsjoi ballet before fled the DDR. Now he lives in Rotterdam where he collects portraits of his family members including Dracula and Elisabeth Bathory. He has no regrets or shame regarding his career as a porn actor or his wild past nor is he ashamed of his current lifestyle. He's has however one wish; to deliver a heir to his legacy.

Nominated for the Fullflower Press Award at Sheffield International Documentary Festival. / Nominated at Documenta Madrid International Documentary Festival. / Selected for the 'Best of Sheffield Doc/Fest programme' at Jersey Branchage.
35th Seattle International Film Festival | 16th Sheffield Doc/Fest Int. Documentary Film Festival | Jersey Branchage International Film Festival – Best of Sheffield Doc/Fest Programme | Nederlands Film Festival 2008 | 24th Interfilm International Short Film Festival Berlin | 38th International Film Festival Rotterdam | 7th Hull International Short Film Festival | Documenta Madrid 09:VI Int. Documentary Festival Madrid | Deboshir Film Festival- St. Petersburg | Athens short Film Festival | Kino.Lab: Shortly Speaking..Dutch! (Museum of Modern Art) – Warshaw (Poland) | 24th Parnu International Film Festival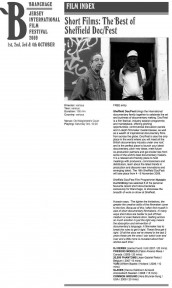 documentary / 8min / digibeta / 2007
Bijna Blind (Almost Blind) is a short documentary about a young man who lives with the fear of turning suddenly blind. In his own unique way he tries to control his world and safe his visual memories. Bijna Blind is a sometimes shocking but mostly eccentrically funny portrait of a man who prepares himself for his future.
I made this film during my second year at the Willem de Kooning  School of the Arts.
It won the NFTVM VERS IV Filmmore/Cam-a-lot JURY AWARD at the 27th Dutch Film Festival and won the public vote of october round at NPS New Arrivals the same year. The film screened at the 37th International Film Festival Rotterdam and Bradford International Film Festival among others and was broadcasted on NPS Cultura.